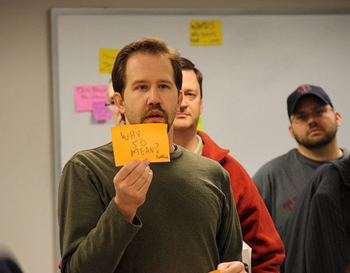 ##The Plague
Scott Hanselman
wrote a nice post about joining forces on This Developer's Life. He, like me, really enjoys This American Life and the idea of telling a story. People's reactions so far have been very positive - with the singular criticism based around the music (too much, too little, etc.). I've also had to master some technical issues - but aside from that, the music has been the focus.
People hear our podcast and are immediately reminded of This American Life - some have even said "it would be nice if you can get your own format... you follow them so closely". Understandable - yet the thing that a lot of people don't realize is that TAL is following a very tried and true motif: Cinema.
This American Life takes a very cinematic storytelling approach and brings it to a podcast. Watch any documentary on TV, Crime Drama, David Mamet film... the music weaves in and out and serves as a conceptual break - what I call the "Pickled Ginger" moment.
Point is - we're doing the same thing. Granted, we're still trying to find our voice. I'll keep going - but that's actually not the point of this here post. The point is this comment that came on Scott's blog, from Chris Vann:>I've avoided listening to this podcast so far, mostly because I've started to avoid Rob Conery like the plague. I subscribed to his blog for a while and every third day it was "Oooh let's get all gaga over this new (technology|language|concept|pattern|etc...)!" The man never stays in one place long, and it seems like he's too intent on latching on to the "cutting edge" and not so much improving upon existing skills. That's fine as a personal choice, but it's not something I care to subscribe to.
  The relevance here is in expressing my hope that you too, Scott Hanselman, do not get suckered into chasing the technology future and lose all track of the present. I suspect you're a decade of maturity greater than Rob, but sometimes, I do have my doubts.

Believe or not - this isn't a retaliatory post. I promise. I understand where Chris is coming from.
My Name is Rob Conery, Change Addict
I won't deny for a second that I really enjoy change. In fact there are some who have accused me of destroying what I have just so I can rebuild it anew using a different thing.
I won't deny it. It's probably true - true in the same way that people who fear change, dislike me because I like it. I'm the Yin to their Yan (sorry - had to throw it in there). I literally exist and do what I do because there are people that are opposite of me.
We form a cycle - like the seasons. Depending on whether you like what I do I could be Spring and Summer - brightening your day with the flowering of new and groovy technical ideas, ripening the fruits of your labor by exposing you to the warm Summer sun of innovation.
Or I could be Jack Frickin Frost - destroyer of things once known, decaying the community etc etc etc.
I hate to use the term - but we're codependent. We're almost like BFFs if you can believe it.
People like Chris Vann (there's a lot of assumption here - I don't know Chris even though I just called him my BFF, but his comment makes me think he resists change). I'm the anti-Chris; for better or worse. But I need Chris as much as he needs me - to keep me from wandering too far - to keep me from going off a cliff.
I, like Chris, have work to do and like many people have to stop and focus for a bit in order to get paid (I do lots of other things besides Tekpub). My inner Chris reminds me of this.
Chris keeps me from "suckering" good people like Hanselman into "chasing technology future". Which, by the way, is interesting as I think the opposite is true here. Scott has his nose in more tech futurist stuff than anyone I know :). This isn't meant as snark - I'm serious. It's voices like this that push me to research more so that when I blog about something - I actually have a leg to stand on. A relevance that has been tested a bit.
Thanks Chris
If you read my blog then you'll know I haven't been writing all that much lately. I tried - more than once - and just deleted the post. I came close to deleting this one, but I kind of like it. Chris has motivated me I spose. Pushed me to introspect a bit and wonder "am I just a douchebag that likes to chase new technology?"
That might sound a bit "wo is me" - but if you can't ask the question, then you probably are one. And I'd like to think I'm not - but then there are those who will disagree, and there are those who will agree.
And the cycle continues. The ironic thing for me here was our latest topic for the podcast: "Being Mean". If you're going to have a blog and wade into the troubled Twitter waters - you better have your floaties on. Mine are magical rainbow floaties. And I do believe they were just inflated a bit.
If I can push the "troubled waters" analogy a bit more - the podcast is my life raft. One of the posts that I deleted was a reflection on that - about how having a creative outlet can fire up your career a bit. Divert your mind away from the black and white problem-solving we do all day into the wide open space that is creative endeavor.
I love the fact that I have no idea where the inspiration comes from - nor why I pick the songs I pick. It literally just comes out of me... right down to each edit point (which, yes I know I can get better at).
At this point is usually where I might add "and if you don't like it - I don't care". But that's not at all what I'm thinking. I need the Chris's of the world - in the same way they need me.
---
I'm not ready to stop.
Monday September 27, 2010